November 2, 2021 @ 12:40 PM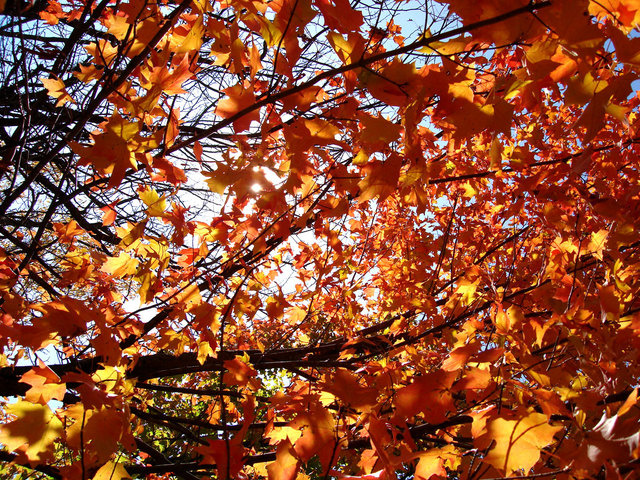 It's that time of year again for fun fall traditions like football and apple picking and to also start prepping your yard for winter and spring! Winter will creep back in no time, so it's important to equip your lawn for the bitter Ohio cold in order for it to come back healthy and refreshed by spring. If you're ready to arm your lawn for another battle against the cold and bring it to victory in the spring, read on for our top four fall lawn care tips and practices!
1. Rake, rake, rake!
The leaves are changing and falling already, but your lawn doesn't have to change and get set up for disaster as they consume the yard. Even though the different colors are a pleasant sight, leaving them around for too long won't make your yard look as pleasant in the spring. Too many leaves block the sunlight needed for the grass stay healthy and keep growing. Furthermore, too much pressure on the grass from all the leaves will make it extra soggy and possibly kill it by spring. These same principles also apply with weeds. Keep up with your weeding schedule as much as possible to ensure sunlight and room to breathe for your grass before the gloomy winter days return. See our previous post on helpful weeding techniques here!
The humid days of summer are over, but mowing the lawn isn't. Keep mowing up until the first frost at a height of 2.5-3 inches. Too short of grass paves the way for more weeds and doesn't provide enough protection from frigid winter temperatures. Too tall on the other hand, invites space for pesky diseases like snow mold that can be difficult to manage come spring. Once the frost comes, winterize your mower by cleaning the air filter, changing and oil and sharpening the blades. Doing so will keep your equipment in better shape for spring, especially after resting in the chilly shed or garage for several months.
Some might think spring is the best time to fertilize, but it's actually right here in the fall! Fall fertizliation acts as a base for grass and plants to thrive on until next spring. This period gives plants and grass a chance to feed off nutrients that will keep them more stable through the upcoming cooler months. For this time of year, fertilizer should be the high in phosphorus; this element facilitates stronger roots and helps flowers bud. For a lush green color and healthy grass blade height, also use a fertilizer that is high in notrogen. These elements can be determined by the product's NPK scale that is composed of nitrogen (N), phosphorus (P) calcium (K).
On most days this year, we've been lucky in here Northwest Ohio with warm fall weather, so take advantage of what still lies ahead in the upcoming forecast and breathe in that fresh fall air while giving your lawn room to breathe. Once you've raked up some leaves, take them to our facility for just $7 per cubic yard. Drop-off is FREE for all Maumee, Whitehouse, Monclova Township, Swanton Township and Waterville Township residents! Thank you for reading and feedback is always appreciated! Enjoy your time in the yard and happy fall y'all!
References: